Saya Woolfalk knows more than your average artist about virtual reality, Oculus or otherwise. When it comes immersive environments, the New York artist's cunning is unmatched. Her installations are more Holodeck than headset; large-scale interdisciplinary works steeped in ecology, the fantasies of Philip K. Dick, feminist theory, and a yearning for a post-racial, post-gender society. More than a safe space, her work creates a safe source of energy for the viewer, a pool of fantastical figures and concepts meant to simultaneously soothe and illuminate.
And, as with any good sci-fi franchise, she's created a world and species so distinct that its iconography cannot be mistaken as the work of anyone else. Her Empathics are an x-chromosome race steeped in the utopian idealism of an all-female future, and her ChimaTEK is a corporation trading in the transportation artifacts necessary to achieve a higher understanding. The hybridity and interconnectedness of her subjects make clear that Woolfalk believes a complete transformation of society is both necessary and imminent.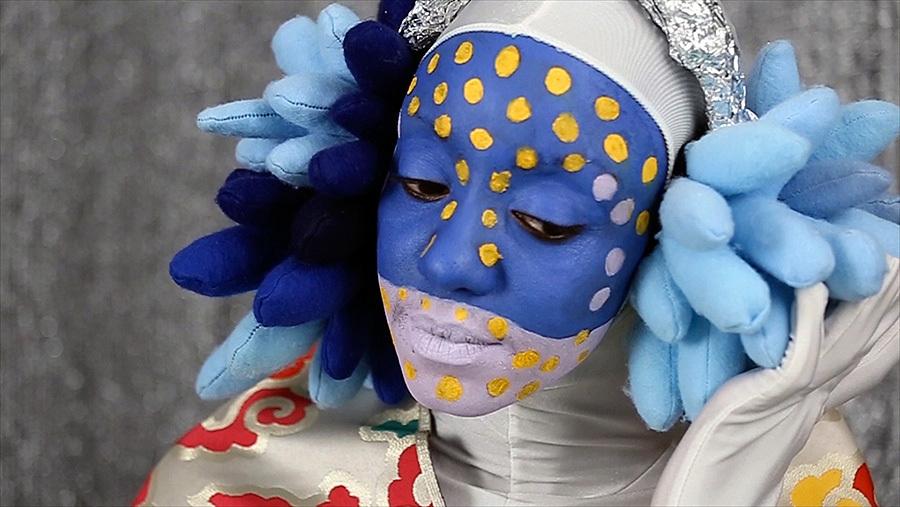 So it makes sense that, in addition to presenting work at PS1/MoMA and popping up in The New Yorker, she teaches at wildly innovative Manhattan art institution Parsons. Flavorwire caught up with Woolfalk to talk sci-fi, future-feminism, hybridity in art, and the boons that are realized when cultures actually listen to each other.
Flavorwire: I'm fascinated by the science and anthropological underpinnings of your work. To what extent were recent works informed by your time in South America and trips to Japan?
Saya Woolfalk: My mother is Japanese, and I spent the summers of my childhood in Gifu, Japan, going to elementary school and living with my grandmother. Moving back and forth between the US and Japan was formative for how I understand the effects of culture on the body… I remember taking on different physical and psychological affects in both spaces, and would morph to become more or less American or Japanese. I think I took this ability to alter my affect to Brazil. People there often assumed I was Brazilian.
How do people in those places approach interaction differently? Is your work an idealized version of aspects of their culture, or are those cultures more tools you use to create something entirely separate?
From 2004-2005, I lived in my husband's research site in Alcantara, Maranhao. Sean is an anthropologist who studies Brazil, and I got a grant to research folk performance traditions of that region. His ethnographic approach, the fantastical way folk narrative deals with histories of colonialism and slavery, and the blended way many Brazilians identify inspired my first major project, No Place.
Your work challenges ideas, not just of gender and race, but species. Do you think we're moving toward a post-racial and/or post-gender society? What's art's role in getting us there?
I do gravitate towards the utopian potentials of a post-racial and/or post-gender reality, but understand and appreciate that people live in real bodies that experience reality based on how they are gendered, sexed, raced, and classed. So, in the near future, I am more interested in encouraging people to identify as intersectional empathic hybrids. Each individual identifies with a myriad of categories, and a slight change in any one circumstance can change their experience of the social world. I try to produce that kind of denaturalization of concrete identity through the dizzying effect in my kaleidoscopic installations.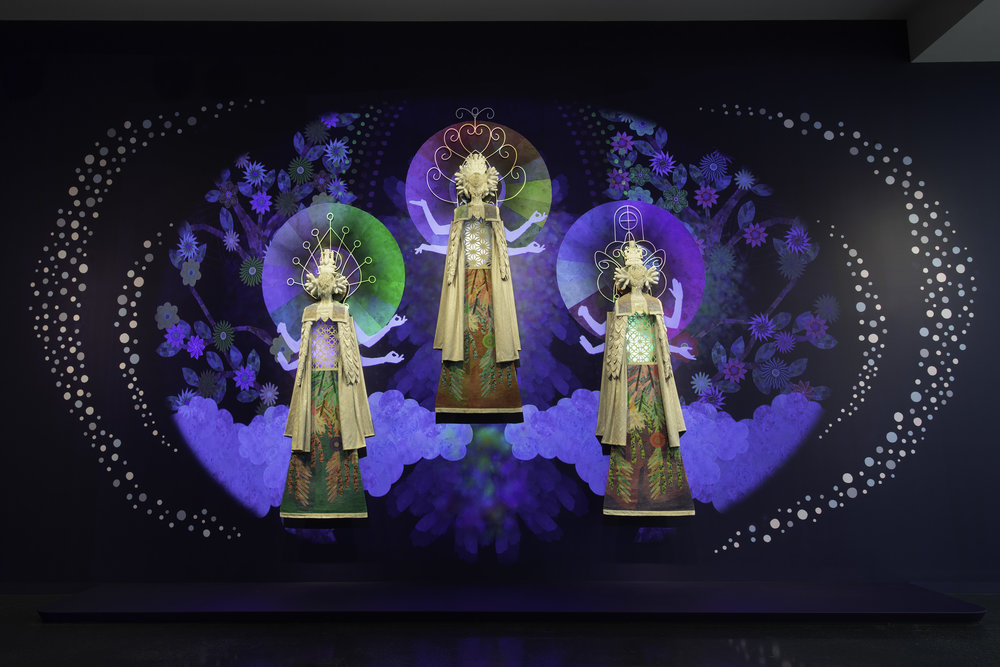 What is art's role in combatting the fragmentation or backlash (I'm not just talking Trump here) that inevitably rears its ugly head in the face of gains in gender and racial equality?
As an artist, I combat backlash by offering unfamiliar, but uplifting, physical and psychological experiences of being in space. Through narrative, installation, and performance, I invite the audience to enter this new reality. I have even held meditation sessions in my installations to encourage spending time in the space.
I think many people view museums as places for old stuff. But progressive and feminist art is especially steeped in commentary ideas that exist in a very immediate context. What's the role of the museum and gallery in spotlighting new ideas or calls to action?
In my practice, I glean contemporary calls to action from knowing the needs and history of a community and a place. I assume issues in the present are partially informed by things that have happened in the past. This is why projects I make with museums are incredibly satisfying and often take years of collaboration with the museum and its community. I attempt to create site-specific projects by speaking with visitors to the museum, curators, technology specialists, educators, and prep staff who have the daily experience of moving through their particular place. The museum and its community can be a think tank for how to make artworks that spotlight contemporary ideas that resonate from a historical perspective and in the present.
How do you amplify a work so that it resonates beyond the typical gallery crowd?
My work is interdisciplinary, and I think this is one of the reasons why it can amplify beyond a typical gallery crowd. I work with musicians and dancers, collaborate with biologists, neuroscientists, anthropologists, and have made work in video, installation, photography, 3d animation, and augmented reality. I am inspired by things beyond the bounds of art, and I think that is clear in the art I make.
In the hyperactive the age of Tumblr, what is required of artists to ensnare the attention of internet-age observers?
When I make an installation, I also consider how it will be documented and distributed beyond the physical space. I take digital images and videos of the installations that communicate how the space felt. The documentation may be the only thing someone ever experiences of the work, and I try to get the feeling of the space into the digital by using tools like social media. So the internet is heavily considered when I make a space. It gives access to a global audience.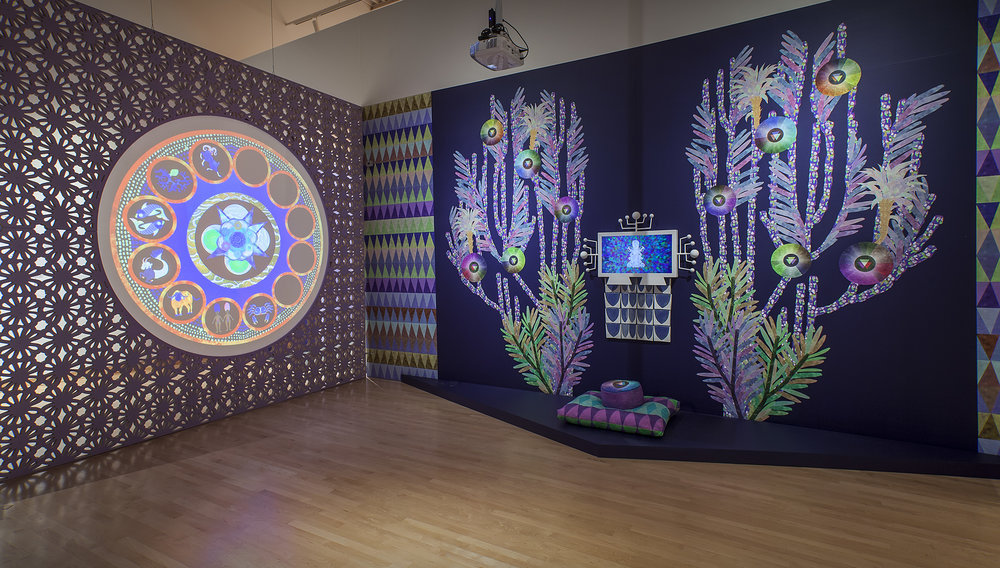 The thing that strikes me most immediately about your work is the rich influence of science fiction. Do you consider your work an extension of that literary legacy?
I am deeply inspired by science fiction. Octavia Butler, Margret Atwood, Jonathan Lethem, and Philip K. Dick are all writers that have helped me think through the way that I make my work.
Afrofuturist feminist Octavia Butler's Xenogenesis series is probably one of my most formative influences. Empathy plays a complex role in this story in which the protagonist, Lilith, establishes a blended family out of her relationship with a race of genetic traders. The books trace her personal and social conflicts with being a trader to her humanity as well as a desire to integrate into a new genetic and social order. This space of empathy and ambiguity is something I try to channel into my work.
The role of futurists, science fiction writers, and artists has traditionally been to warn us off of dystopian models, but you've very actively laid out scenarios of radical harmony and inclusivity. Why so hopeful?
I think you are right — there are many critical approaches, and I want to create a generative space, where there might be some possibility for an opening. The US is an intersectional, intercultural society. I want to create work that reflects the that space.
On the fact that your Empathics are all female, you've said, "The decision came from self-selection." What do you think makes your work particularly appealing to women?
I started working on the Empathics in 2009. When I began working on this project the work was particularly appealing to women. Now, there seems to be a broad-based appeal. I imagine this change is a combination of the evolution of my work and the shifting taste preferences in the US. We had our first black president [and we had] a woman who champions feminist issues running for president, and "intersectionality" is a word used in the mainstream media. As I make my next projects and evolve the narrative to the Empathics, I am sure this cultural shift in the US will be manifest in the characters who choose to appear in my work.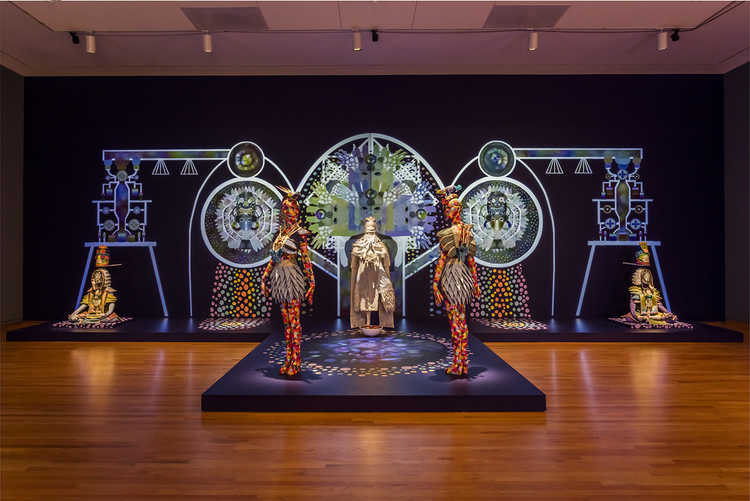 Originally Published 12/4/16 as part of a special Microsoft-sponsored series for Flavorwire.