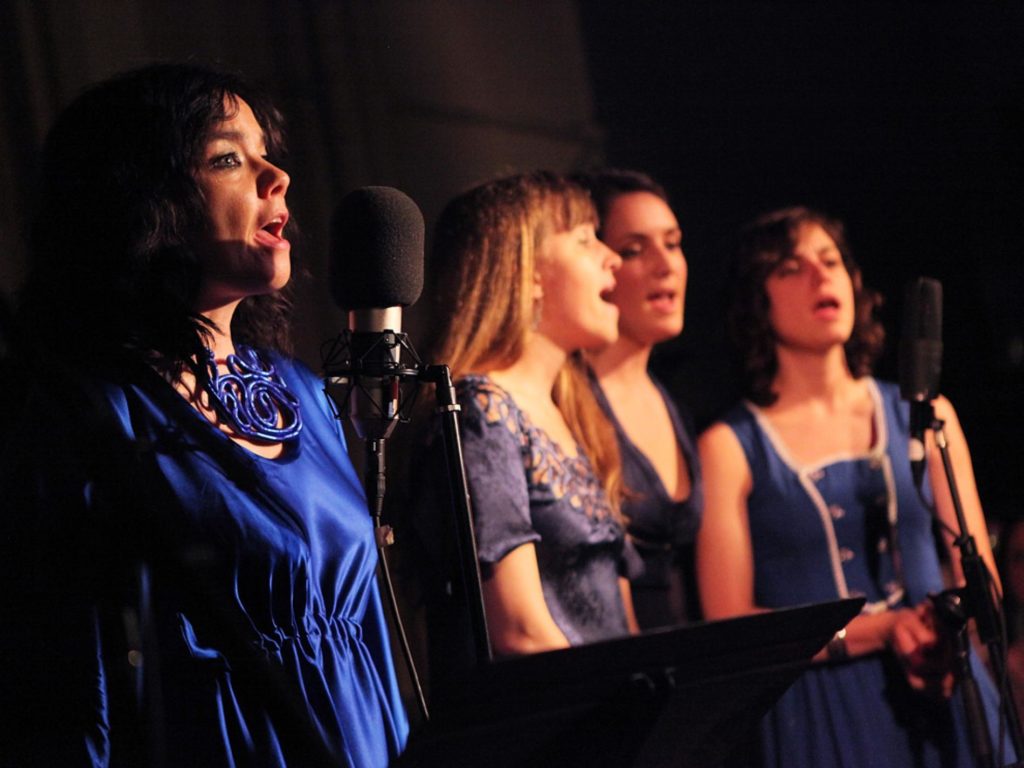 Everyone knew last Friday's one-off collaboration between NYC art-rock outfit Dirty Projectors and Icelandic pop institution Björk would be epic. The real question was, HOW big would it be?
Brokered by Stereogum's Brandon Stosuy, the meeting of the (very weird) minds took place after Projectors' Dave Longstreth composed a piece — an ode to whales and Mount Wittenberg — specifically for the Icelandic singer. The six-song suite got its premiere at the home of Flavorpill friend Housing Works (a charity bookstore working to help homeless individuals living with AIDS) in front of an intimate audience of about 300.
With the likes of M.I.A., David Byrne, Kieran Hebden, Haley Joel Osment (?), and St. Vincent in attendance, the crowd was almost as interesting as the singers on stage. After the jump, ten images of the event followed by ten anecdotes you won't see anywhere else (including song descriptions and a report on the wanderings of David Byrne, M.I.A., and a freaky Vincent Gallo look-alike).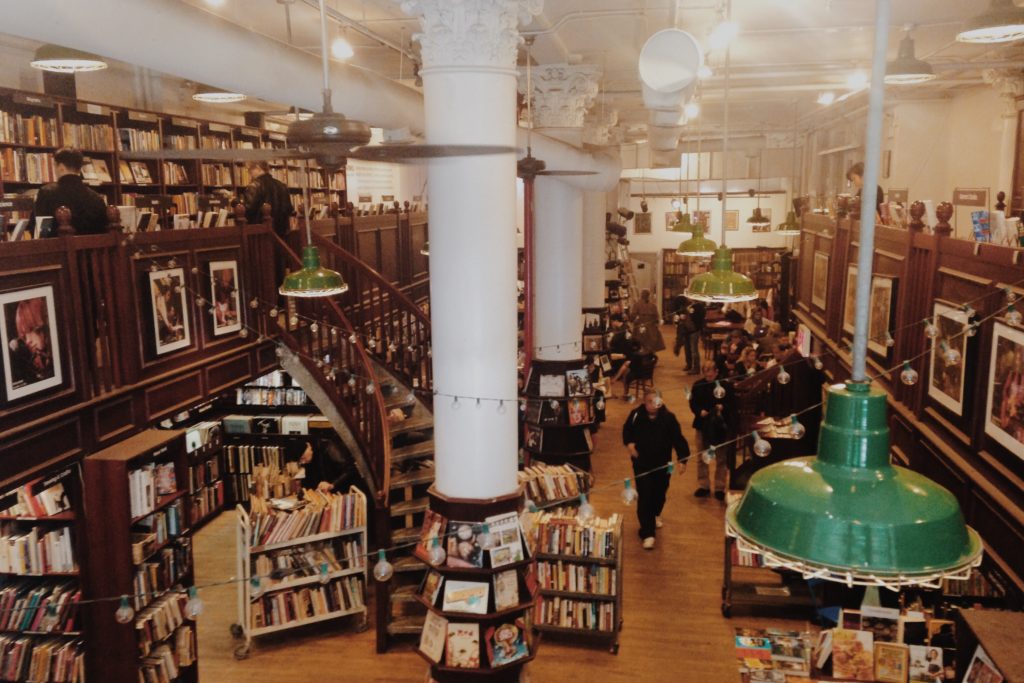 1. Byrne, Baby, Byrne. Avoiding the spotlight, Talking Head and indie-cred Adonis David Byrne nestled into a dark corner on the right balcony overlooking the bookstore stage. He seemed happy to remain anonymous, but was soon approached by a man interested in extolling the virtues of King Tubby… ad nauseam. Byrne retreated to the bar, but when he returned, the one-sided conversation resumed. (On a side note, I realized it was Byrne when I accidentally swung my arm into his abdomen, and HE politely said "Excuse me.")
2. Ruby Baby. While the entire benefit was understandably upper crust, a certain degree of separation was still at work. Larger patrons were seated to the left and front of stage with several small tables (as well as in a special VIP VIP section on the left balcony). Folks in the cheap seats ($100) stood to the right side, ducking their eyes around several minor obstructions.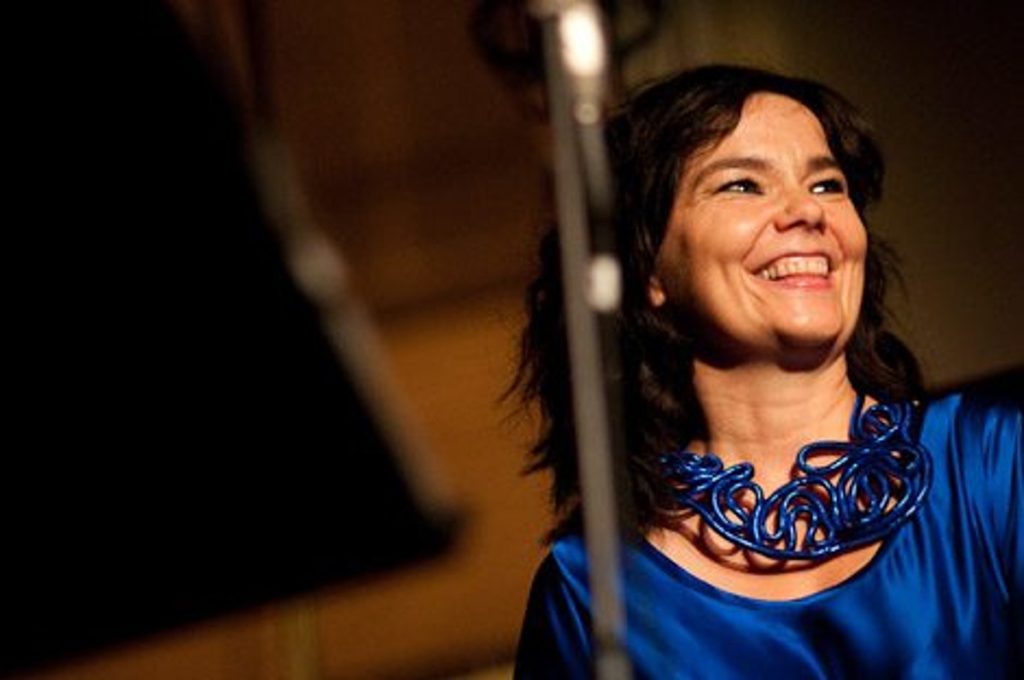 3. M.I.A. is a Book Banga. While fans requested pictures with several of the musicians and celebrities in attendance, M.I.A. had the most bizarrely surreal snap-shot. When approached, she walked away from her companion — a beefy guy bedecked in 1983 attire — picked a book up from one of the shelves, and proceeded to flash a bit of attitude. The result was the most militant celebrity "Read" ad ever.
4. Earth Intruder. Any Björk show is bound to bring out some eccentric attire. My ironic take on the ironic mustache (meta isn't it?) was out in force, but it was simply no match for the Vincent Gallo look-alike who proudly let his chest hair out. Of course, the hands-down winner was a bespeckled man draped in what can only be described as a futuristic snuggie beamed from the future. Featuring pink swirls, the cape (?!) was made of the industrial, faux-wool material usually used to make blankets for the homeless (definitely an odd choice for an outreach event).
5. Eat the Menu. The upstairs portions of the event was open-bar (big ups to the "white" wine), and the drinks tables were adorned with small bowls of snacks. At one point, a small child snatched the entire popcorn bowl and ran away. Realizing what had happened, her mother made a halfhearted attempt to grab her, but it was too late: popcorn sprinkled across the toes of so many indie elite.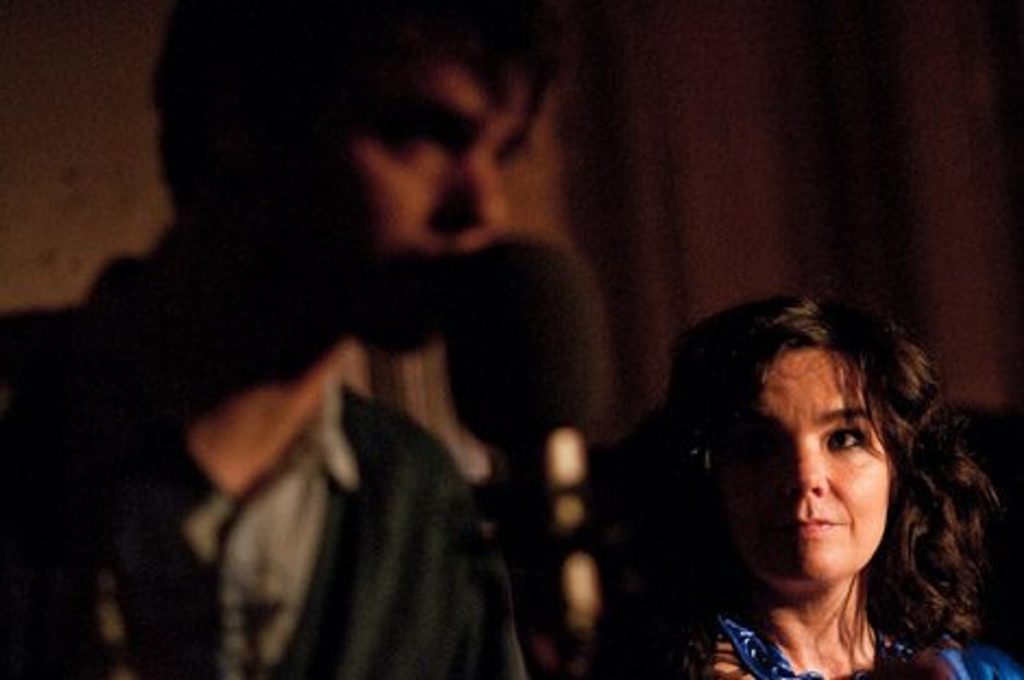 6. Top of the World. When she emerged, it quickly became clear that Björk was the second shortest person on stage. The tippy-top of her head only reached to Longstreth's shoulders, rendering his name all the more appropriate and her whimsical, childlike demeanor seem all the more in character.
7. (Not) Frosti. A bookstore's AC isn't necessarily equipped to handle capacity crowds. By the end of the evening, the standing-room side of the stage was sweltering (though, thankfully, not quite like Coachella).
8. I Go Humble. While her contributions were unquestionably impressive, Björk actually spent a lot of time on the side. She joined the backing chorus for several songs, allowing Longstreth to step out front. While her lovably cartoonish take on Billy Holiday certainly added to the aesthetic, the music itself was more Projectors than Post (the backing band's Meredith Monk-style avant-garde operatics received particularly enthusiastic hoots and hollers).
9. Leash Called Love. The Projectors played a few originals before bringing out Björk. It's a good thing because, despite the build-up, the actual piece itself was relatively short (well under 30 minutes by my count). As such, the audience called enthusiastically for an encore that never came (don't you people know they only had a few days to rehearse!?).
10. Off the Heezy, Fa Sheezy. As after parties go, this one was was particularly epic. Held on the crystalline roof-deck of the Cooper Square Hotel, the intimate gathering featured a (dangerously) open bar, and, for no apparent reason, an open-air bath tub. Björk kicked up the party with an unexpectedly ruckus DJ set featuring Bell Biv Devoe's "Poison" and Amerie's "Got Me Trippin'." Members of Dirty Projectors, St. Vincent, and Vampire Weekend, meanwhile, could be seen waiting in line for the can.